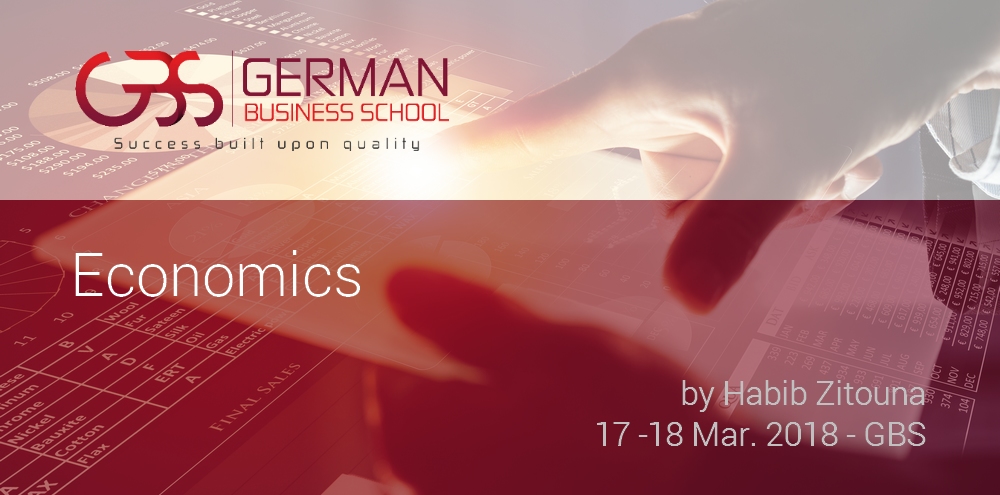 ---
Saturday, 17 March, 2018 - 09:00

to

Sunday, 18 March, 2018 - 19:30
---
---
Université Internationale de Tunis
---
This session is tailored to help you understand how economies and global trade work. The course clarifies the impact of the economic development on your company and everyday life. It will take place on Sat. 17th and Sun. 18th March 2018, at German Business School with Prof. Habib Zitouna.
If you have ever wondered why the cost of a ticket to your favorite band's last concert was so expensive, why you are paid so little in your job, why your petrol is taxed so heavily, or why it is more expensive to get into a night club at weekends than during the week, or if you have ever wondered what influences the rate at which you change your currency into another when you go on holiday, why some people seem to be some richer than others, or why some firms make more profits than others, then studying economics will be interesting for you ! In fact, whether you know it or not, you are already an important part of the economic system. You are consuming goods and services, and influencing the demand for them. You may also have a job, and so help to generate goods & services if you are working, you are also paying taxes that are used to finance the provision of other products. However, simply being part of an economy is one thing; studying is another.
"By the end of the session you emerge as a student who can read as well as a law graduate, compute as well as a statistician."
Abstract & Simplify

in order to identify & model the essence of a problem.

Analyze & Reason

both deductively and inductively.
Marshal evidence & to assimilate, structure and

analyze qualitative & quantitative

data.

Communicate concisely results

to wide audience, including those with no training in Economics.

Think critically

about the limits of one's analysis in a broader socio-economic context.

Draw economic policy inferences

and to recognize the potential constraints in their implementation.

Apply literary and information-processing skills

, as well as interpersonal skills.

Ability to problem solve

.

Handle strong data

.

Develop a wide range of communication skills

(verbal, written, presentational) to working with other people often across a range of fields and interests and analyzing things at a regional, national and international level.
"You will not be short of the skills that employer's prize."
You could also consider moving into the following areas:
Consulting, Teaching, Advertising, Investment Banking, Retail Banking, Marketing, Consumer Products, Retail Management, Sales, Politics, Accounting & Finance, Math's or Statistics, International Relations, Sociology, Human Geography, History…
"Economics is very transferable, useful & interesting Session"
---
Programme:
from 09:00 to 11:00
Topics :
Institutions and Economic Development
Inclusive institutions and Economic Development
Development policies and Role of the State in Tunisia
from 11:00 to 11:15
from 11:15 to 13:15
Topics :
Constraints to growth in Tunisia and implication for private investments
Growth Diagnostic
Binding Constraints to growth in Tunisia
from 13:15 to 14:15
from 14:15 to 16:15
Topics :
Investment incentives and private sector promotion policies
Investment incentives
Private sector promotion policies
International Trade Liberalization and Export promotion policies
from 16:15 to 16:30
from 16:30 to 19:30
Topics :
Business Climate in Tunisia ( a Debate )
from 09:00 to 11:00
Topics : 
Monetary Policy and Inflation
Objectives and Instruments of the Monetary Policy
Monetary stability and Inflation in Tunisia
from 11:00 to 11:15
from 11:15 to 13:15
Topics :
Exchange rates and the Balance of payments
Exchange rates and Currency systems
Balance of Payments
from 13:15 to 14:15
from 14:15 to 16:15
Topics :
Fiscal policy and Debt
Fiscal policy and macroeconomic imbalances
Origin and consequences of External Debt
from 16:15 to 16:30
from 16:30 to 19:30
Topics : 
Structural Reforms and Macroeconomic Instability ( a Debate )