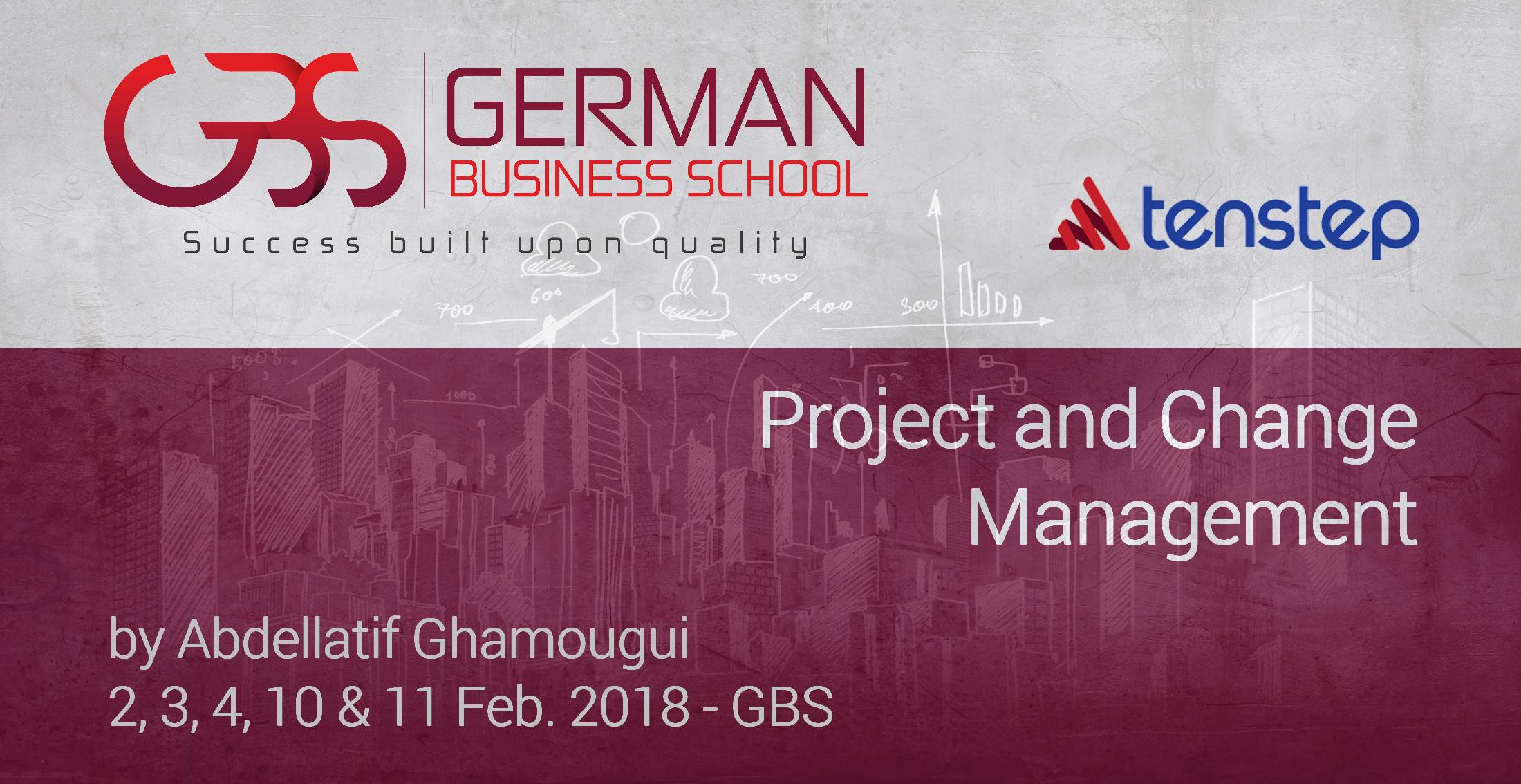 ---
Friday, 2 February, 2018 - 09:00

to

Sunday, 11 February, 2018 - 18:00
---
48, rue des minéraux - Charguia 1 - 2035 Tunis
---
The Project (PM) and Change Management (CM) Training at German Business School adresses Project Managers in charge of all aspects of project delivery, leading and directing teams. The PM & CM GBS session takes place over two weekends between Friday 2nd and Sunday 11th February, 2018.
The Project (PM) and Change Management (CM) Session at German Business School provides the global approach of project management and specific local and international aspects of change management.
Understanding the meaning of process competence in the project, participants learn how to:
manage processes

efficiently,

improve the quality

of the processes continuously,

manage complex change processes

succesfully and accompany the implementation,

develop concepts

for process and quality improvement.
On completion, participants will receive a GBS Certificate. The session partially prepares for the most important industry-recognized certification for project managers - Project Management Professionnal PMP - PMI provided by our local partner.
---
Programme:
from 09:00 to 18:00
Project Management Fundamentals
Project management framework and terminologies:
Projects

selection

and

appraisals

,

Organizational

considerations,
Projects and

operations

,
Project management

life cycle

,

Project

,

program

and

portfolio

of projects,

Project

life cycle vs.

Product

life cycle.
Project management processes interaction according to the Pmbok 5th edition.


from 09:00 to 18:00
Projet and Process Management
Project initiating processes.
Project Planning processes.
Project execution processes.
from 09:00 to 18:00
Project and Risk Management
Project monitoring and controlling processes.
Project closing processes.
from 09:00 to 18:00
Change Management
Change Management

terminologies,

Change Management maturity

Model

,
The

process

of Change Management,
The ADKAR

model

,

Best Practices

and errors to avoid while dealing with Change Management.
from 09:00 to 18:00
Project Management: Real simulation
The session ends with project simulation workshop that allows participants to be confronted to situations and problems encountered in each project. With SimulTrain, participants (3 people groups) immediately see the consequences of their decisions and can keep track of costs, time, quality, but also human factors.