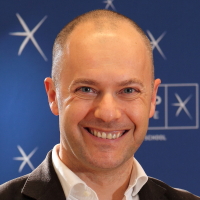 Position:
Strategy, Leadership and Communication Lecturer
Roberto Quaglia is a Professor of Strategy and Management at ESCP Europe and a visiting Professor at the Lorange Institute/CEIBS (Switzerland/Ghana), ESA (Lebanon), Unito (Italy), Polito (Italy), EPA (France).
Prof. Roberto Quaglia has earned his PhD at University Paris 2 Panthéon-Assas, he is an alumni of CPCL at Harvard Business School (USA), EDP at MIT - Massachussets Institute of Technology (USA), MiM at ESCP Europe (France), University of Torino (Italy).
He started his professional career as a strategic consultant at McKinsey & Co. and he then moved to Academia over 15 years ago. A true passion for teaching and consulting, with a bias to corporate clients and family business; he serves as a keynote speaker, a workshop facilitator, a consultant or a board member.
Roberto specialises in Strategy, Leadership, Decision Making, Communication, Influence, Change Management and Family Business.