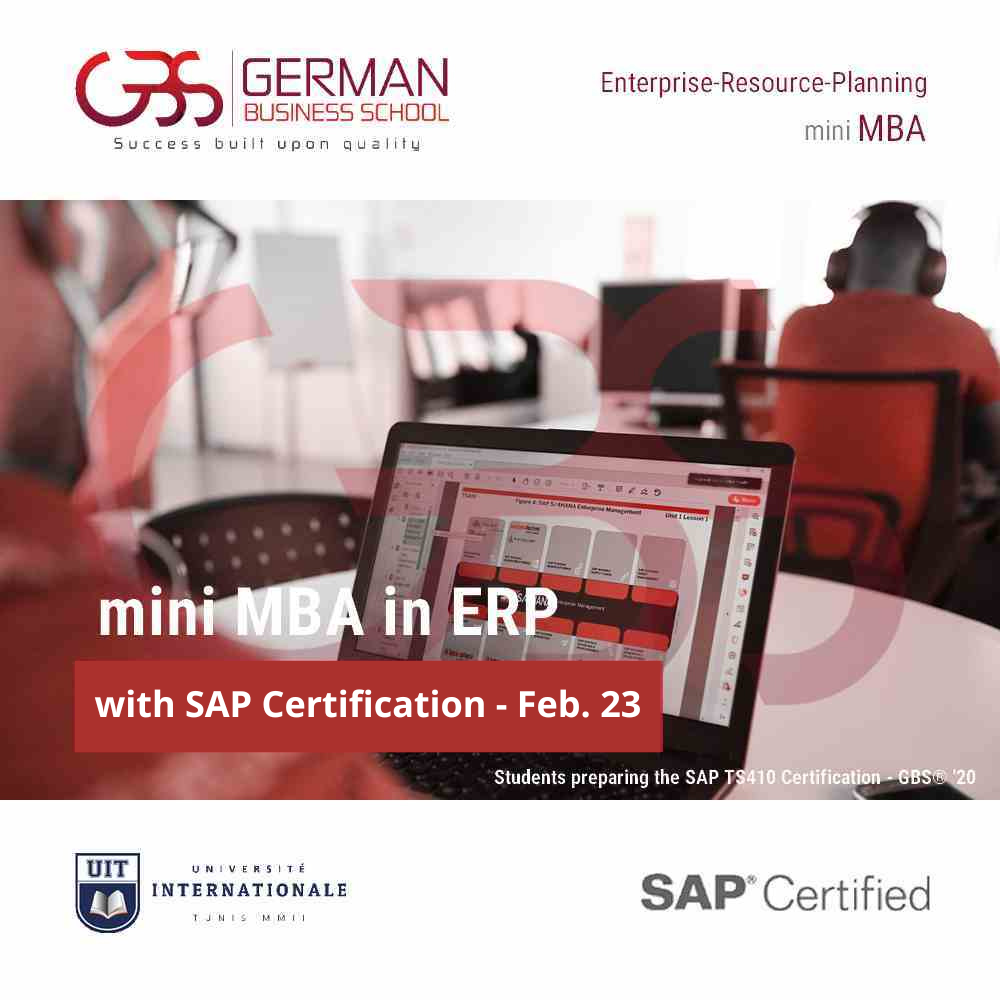 ---
Friday, 10 February, 2023 - 13:00

to

Friday, 3 March, 2023 - 17:00
---
---
The Mini MBA in Enterprise Resource Planning is a graduate level Certificate including a global MBA session on ERP and a specific SAP TS410 Certification organized by UIT. The 3 weeks-training starts on February 10th, 2023. The Mini MBA in ERP provides a business processes understanding, using the SAP tool. The intensive program lets you: 
understand the organizational structure needed to support each process,
identify data Master keys to be maintained to run each process,
identify ERP transactions required to complete each process,
develop the points of integration between involved departments to achieve each process.
 The Mini MBA Diploma is provided by German Business School with additional TS410 Certification (SAP). The program starts on February 10th, 2023.Info & Registration: German Business SchoolMonday to Friday: from 9am to 1pm and from 3pm to 6pmT: 31 10 11 11 M: 55 15 11 11 Email: certificate.application@german-bs.com
---
Programme:
from 13:00 to 17:00
MBA Session: ERP
Fundamentals of ERP
Fri., 10.02 from 2 pm to 7 pm
Sat. 11.02 from 9 am to 6 pm
Sun. 12.02 from 9 am to 1 pm
from 17:00 to 20:00
Certification SAP TS410 Preparation on S/4HANA
daily on weekdays from 4:30 pm to 7:30 pm
Saturdays from 10 am to 4 pm