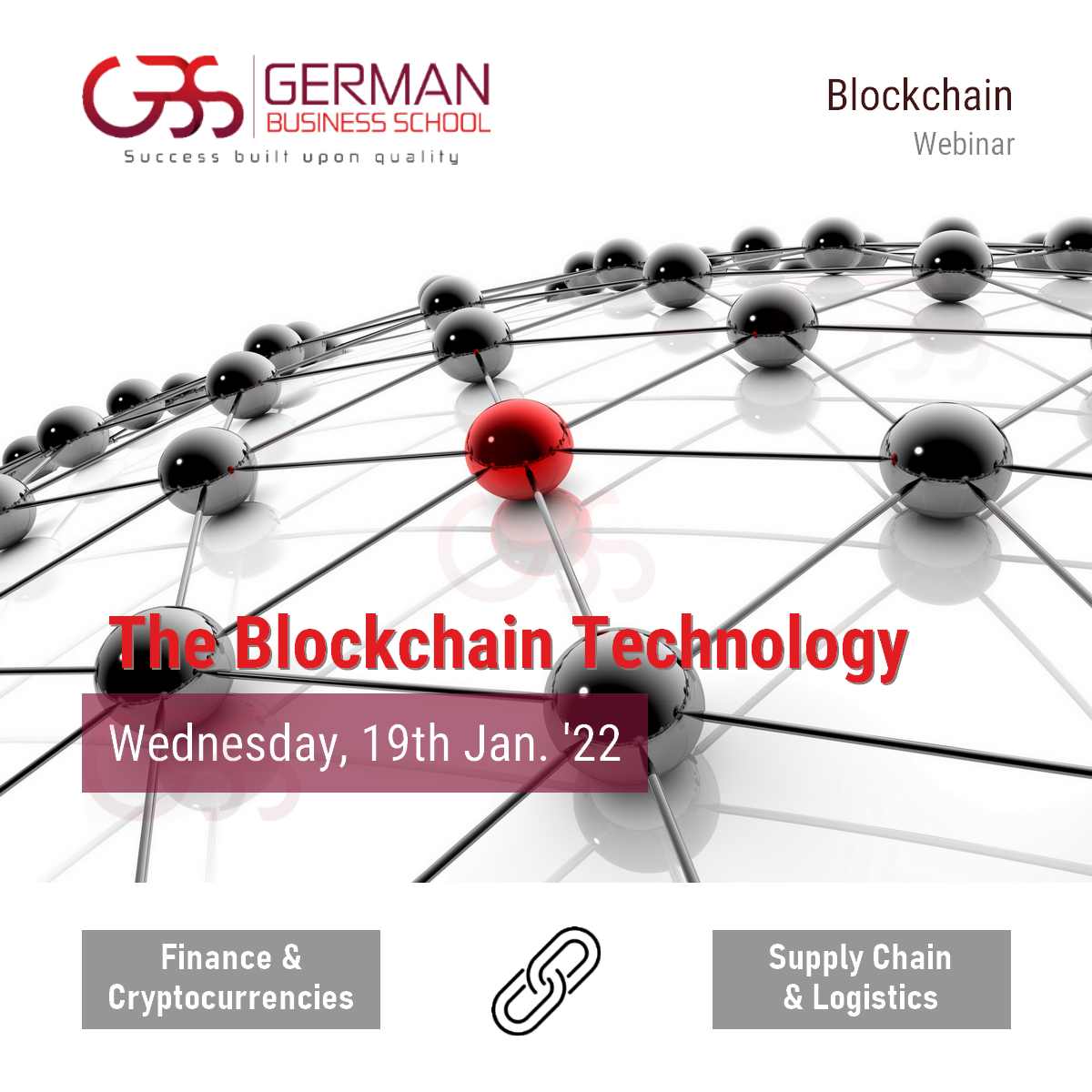 ---
Wednesday, 19 January, 2022 -

15:00

to

17:00
---
---
German Business School organizes a webinar on Blockchain for professionals and executives. The event focuses on the Blockchain Technology and its integration into Finance & Cryptocurrencies and Supply Chain & Logistics.
GBS Experts and lecturers moderate the Blockchain technology event on Wednesday, January 19th, 2022.
Overview
Blockchain, being a cutting-edge technology fundamentally revolutionizing business management, is one of the essential skills that an MBA student, as well as any savvy business leader, must acquire and develop in order to master the economic, financial and operational challenges in the digital age and thus boost his career. Discovering the world created by the blockchain technology and its impact on your professional activity will help you plan your career as an entrepreneur, a financial officer, an operation manager, a trader, a business analyst, a researcher or a consultant.
The webinar covers many key topics related to Blockchain. Crypto-economics, crypto-currency and Blockchain for Supply Chains are introduced to a public with a general background. Internationally renowned experts will discuss the macro- and micro-transformations generated by the implementation of the blockchain technology and display their practical application in financial economics, corporate finance and operation management.
In the Q & A session, the audience will be involved to discuss with the experts the perspectives and the impact of the blockchain technology on transforming the way of doing business.
---
Programme:
from 15:00 to 15:15
from 15:15 to 15:45
Blockchain for Corporate Finance & Cryptocurrencies
from 15:45 to 16:15
Blockchain for Supply Chain & Logistics
Prof. Dr. Naoufel Cheikhrouhou